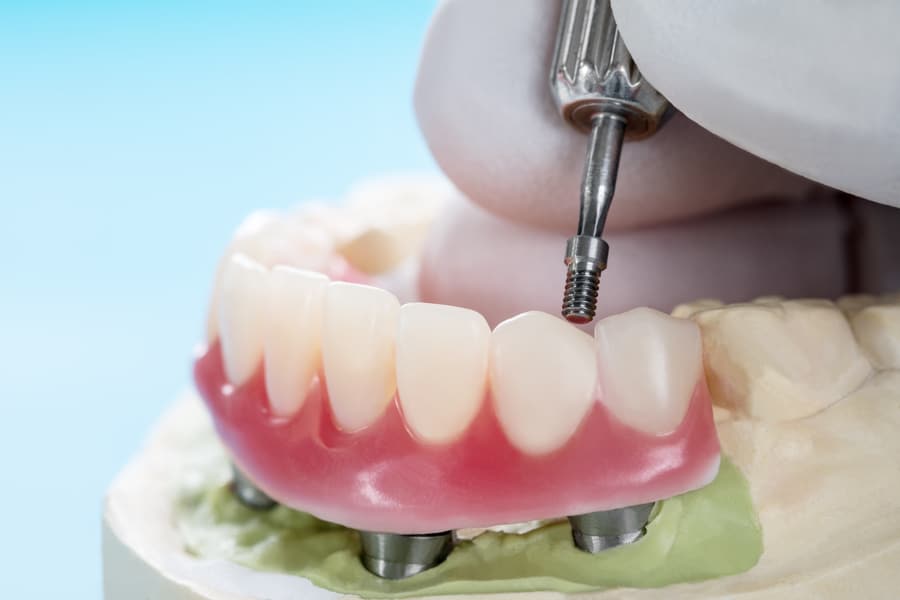 Are Overdentures better than Conventional Dentures?
The most common complaint of conventional denture wearers is that they are often difficult to keep in place. It can be very frustrating to have dentures slip when eating, chewing, and talking. Unfortunately, this is a common experience that most denture wearers know all too well. But this inconvenience does not necessarily have to be part of your life.
There is more than one option when it comes to replacement teeth.
For tooth replacement, the most common option is some form of a removable denture. If you are looking to replace a single tooth or a small section while retaining some real teeth, you may opt for partial dentures. But if you are needing a replacement for a full arch, full dentures will give you the best results for functionality, ease of daily cleaning, and the appearance of natural teeth.
Traditional dentures are replacement teeth that are designed to rest on your gum tissue. They are typically held in place by suction, dental glue, or a combination of both. These removable dentures are most commonly designed for the upper arch.
This type of dental implant is secured by multiple metal implants that stick out from the jaw bone. They are typically ball-shaped on top to create a ball and a socket-like connection for the prosthetic denture. This connection creates a sturdy anchor that allows for a more secure fit and better functionality.
Implant-Supported Overdentures
The type of implant you are fitted for depends on your overall oral health and levels of bone loss. Implant-supported dentures are secured by attaching to metal implants that protrude from the jaw bone, therefore your dentist will select your overdenture type based on how many implants your jaw can support.
If your jaw bone is not strong enough to support more than 2 implants, the use of a bar-retained denture may be appropriate. In this case, two similar implants are anchored to the jaw and a thin metal bar is placed to connect the two. The prosthetic denture is then attached to the bar using clips to secure it in place.
There are many benefits to selecting implant-supported overdentures. The most obvious reason is that the secure anchoring allows for less diet restriction. With common dentures, many foods need to be avoided, pre-cut, or mashed in order to consume with dentures. With implants, the connection is stronger, thus supporting a stronger bite.
Also, overdentures promote a stronger jaw with less bone resorption or decay. Due to the likelihood of shifting, traditional dentures promote chewing without use of the lower jaw bone. This leads to faster bone decay and facial contour deterioration.
With implant overdentures, the implant creates support for the jaw and gums and helps to fortify and strengthen your natural materials. This prevents bone loss and allows for full movement of the jaw without fear of slippage.
Are Overdentures Right for You?
The only way to know if overdentures are a better choice than conventional dentures in your specific case is to consult with a trusted dentist. At East Valley Dental Professionals, we desire to help you gain a confident smile you can rely on. We offer no-cost, no-obligation second opinions to prove it.
Schedule an appointment with our office by calling us at 480.838.3033 to start building a smile that will last a lifetime.
Request an appointment now. We'd love to see you!