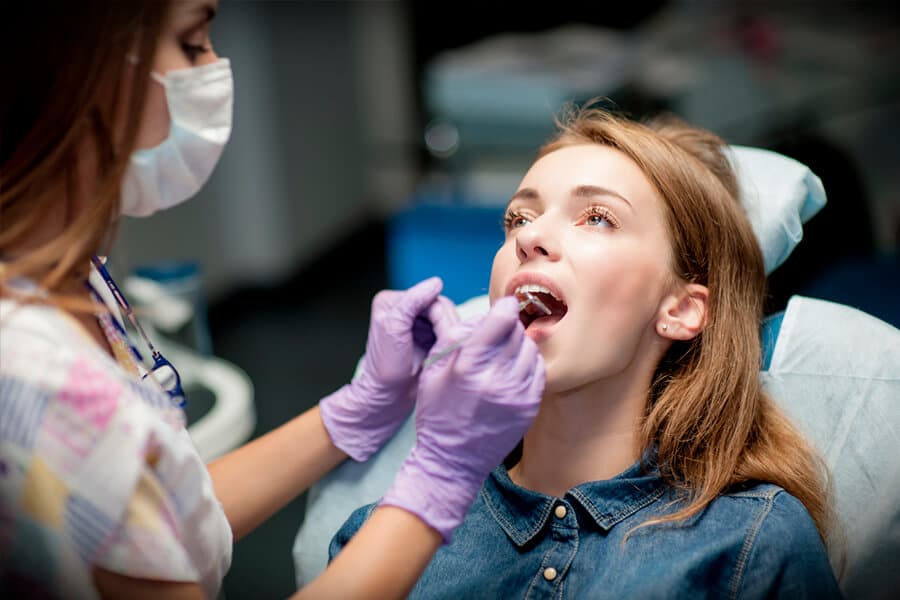 Lumineers are a brand of ultra-thin porcelain veneers that have helped many people attain the smile they've always dreamed of. Because there are so many options available, many people want to know if Lumineers are the right choice for them. So let's take a look at the benefits of Lumineers while explaining what they are. Then we'll discuss some of the considerations that might make a different solution right for you. In the end, of course, you'll want to discuss your smile makeover with a qualified and experienced cosmetic dentist, who will help you choose the perfect solution for your situation.
Lumineers Are Ultra-Thin
Lumineers are a brand of ultra-thin porcelain veneers that fit over your teeth, providing a smile makeover without a lot of time or effort. Because they are so thin – about 0.30 mm thick as opposed to many other brands that are about 0.50 mm thick – they can be placed with a minimum of tooth preparation. And this is good news for most dental patients. In the past, preparing teeth for porcelain veneers often meant removing quite a bit of the original tooth structure, but with Lumineers, the transformation can take place with a preparation that removes only a very thin layer of enamel, or even with no preparation at all.
This is a double benefit, because it is always best to preserve as much natural tooth structure as possible, and with no need for extensive preparation, Lumineers do just that.
Lumineers Can Be Placed in Just Two Visits
With Lumineers, your smile makeover can be completed in just two visits. Unlike many other smile makeover options, which can be more intensive and time-consuming, Lumineers require less time and fewer office visits. During your first visit, you'll discuss your desires and aspirations with your cosmetic dentist, who will then take an impression of your teeth. He or she will send this impression along with instructions to the Lumineers' DenMat Lab in California. The ceramists there will then create a set of Lumineers to fit your teeth exactly, and once they are finished, your dentist can cement them in place in just one more sitting.
Lumineers Are Ideal for Large Areas
While dental bonding can correct many problems in one or two teeth, Lumineers are ideal for changes to many teeth over a large area.  Using dental bonding would not be economically feasible for many teeth because of the sculpting and color manipulation skills required. In contrast, Lumineers can be prepared and fitted on many teeth at the same time, so that after your second visit, you'll go home with your brand-new smile.
Lumineers Can Correct Many Problems
Lumineers can correct the appearance of many dental problems. The can be used to cover stained or discolored teeth and teeth that have been chipped. They can even be used to provide the appearance of straighter teeth or to eliminate gaps between the teeth, avoiding the need for braces in some cases. Furthermore, the porcelain used in Lumineers will not stain, so you'll perpetually have a nice white smile. If you want the brightest smile possible, consider having your teeth whitened before you do the color matching for the veneers. That way, you can choose the whitest possible shade for the Lumineers and simply maintain the whiteness of your other teeth.
However, Lumineers Are a Purely Aesthetic Solution
In looking at the cons of Lumineers, it's first important to note that Lumineers cannot correct many underlying problems with your teeth. If you have decay or gum disease, or if you are in need of crowns or bridges, these problems will need to be addressed before any aesthetic solution will help. And because they are an aesthetic solution, it is unlikely that dental insurance will cover them.
Because the Lumineers require little or no preparation of the teeth, the result can, without care on the part of your cosmetic dentist, look bulky. And another problem that can come as a result of no preparation is that the line where the porcelain of the veneer meets the enamel of your teeth near the gums can produce a very fine ridge. If plaque is allowed to accumulate on this ridge, tooth decay or gum inflammation could develop.
Another important consideration when thinking about Lumineers is the DenMat Lab. The use of the brand requires that the veneers be created at this lab, using Lumineers' own ceramists. This may not be a barrier at all for your dentist, but some cosmetic dentists do prefer to use their own master ceramists.
And as we pointed out in the beginning, your decision whether or not to go with Lumineers will depend on the discussion of treatment options that you'll have with your own cosmetic dentist. But after informing yourself of the pros and cons of Lumineers and your other options, you'll have what you need to make an informed decision that should lead to a great outcome.